7 Best Probiotics For Acid Reflux (& GERD)
A recent estimation has revealed that 1 out of every 5 Americans suffers from GERD. Correspondingly, recent research on heartburn, GERD, and dyspepsia reported that probiotics reduced acidic reflux in 45% of the trials. 
These statistics call for an immediate resort to probiotics considering their high efficacy and low probability of causing any adversities.
But with dozens of products, each with big slogans, it's hard to choose which ones are actually effective.
Fret not because in this post, I have listed the best probiotics for acid reflux relief for different conditions according to science-backed results. These are;
Owing to their quality formulation, I truly believe these products will provide relief whether you have GERD or occasional heartburn issues because they have all the properties you should look for when buying a probiotic for heartburn relief, as described next;
How I Chose The Best Probiotics for Acid Reflux?
Here's a quick buying guide for you that I have compiled based on the points I had in my mind while putting together my list of the best probiotics for acid reflux/heartburn.
Brand Reputation And Quality Assurance
When buying supplements, it's especially important to look for quality products because they directly impact your health.
Hence, you should only buy probiotics from reputed brands, i.e., brands that follow good manufacturing practices and put in extra effort to make allergen-free supplements.
Probiotic Strains that work best For Acid Reflux
Research shows following Lactobacillus and Bifidobacterium strains are most effective for minimizing acid reflux;
L. gasseri, L. reuteri, L. casei, L. plantarum, L. rhamnosus, and L. acidophilus
B. bifidum, B. lactis, and B. longum
Read this blog to learn how these bacteria prevent and cure acid reflux.
Type of Encapsulation
Microbes are very sensitive to temperature and acidity. Some can withstand highly acidic environments, while others are degraded if the pH in your gut is low.
Natural gut microbiota occurs in the large intestine, but if the probiotics are exposed to stomach acids before they reach the intestinal tract, many of them can die or weaken, and the supplements may lose their potency.
That is why enteric, delayed-release capsules are the best form to take probiotics. Because they don't release ingredients in the stomach or esophagus and only open in the intestinal tract.
So, they are healthy and colonize faster, helping you get rid of heartburn sooner.
The amount of Live Cultures The Supplement Has
CFU number is a good indicator of the probiotic efficacy. It shows how many live bacteria the pill delivers to your gut.
The human gut microbiome is so vast and diverse that it has the capacity of trillions of microbes. So, the more bacteria in the supplement, the better gut health.
Nutritional experts say probiotics should have at least 1 billion colony-forming units (CFUs).
Probiotics for Acid Reflux – 7 Best Options
1. Yourbiology Gut+ – Best Women Probiotics For Acid Reflux Relief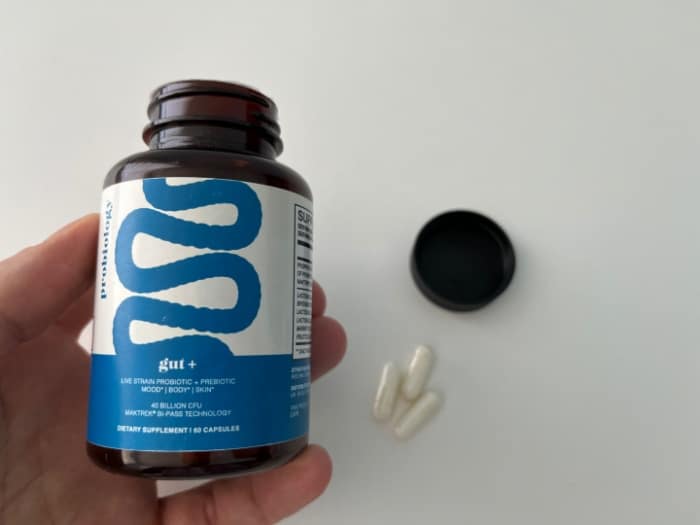 CFU: 40 billion CFUs
Dosage: 2 capsules daily
Probiotics Strains:
3 Lactobacillus strains (L. acidophilus, L. plantarum, L. paracasei)
Bifidobacterium lactis
Form: MAKtrek delayed-release Capsules
Certifications: cGMP-certified
Storage: Shelf-stable
Cost:
$64.99 for 1 month supply
$129.99 for 3 month's supply
$194.99 for 5 month's supply
Gut+ is my go-to probiotic to stay safe from heartburn, nausea, and other gut issues.
It helps deal with the underlying factors causing acid reflux diseases, like stress, drug effects, fatty foods, and diseases.
Lactobacillus and Bifidobacteria probiotics help lower stress and alleviate stress-related stimulation of gut mucosal glands.
L. paracasei streamlines the movement of food from the stomach to the anus, lowering the chances of acid build-up and overflow.
Also, the anti-inflammatory compounds produced by these probiotics strengthen the esophagus valve, preventing the leakage of gastric juice into the food canal.
Especially B. lactis bacteria has a high potency to reduce the backflow of acid.
A research trial with 64 women reported that acid reflux frequency decreases up to 14.9% with a 14-day supplementation of B. lactis.
The results are even better when combined with 3 other potent probiotics and supplied with prebiotic fiber.
Besides that, anti-inflammatory secretions heal the gut lining, covering up for the damage acidity and drugs have done.
And the best thing is Yourbiology strains fit in well within the vaginal microbiome. So, it is the best supplement for women to take care of their gut and feminine health simultaneously.
Pros:
Shelf-stable, delayed-release capsules
Reduce GERD severity
Lowers stress levels
Prevents vaginal infections
Cons:
The company doesn't sell at local stores or on Amazon
Where to buy:
Buy at Yourbiology's official website.
The cost is $64.99 per pack, and installment options are also available
Also, avail discounts on bundle shopping.
2. Biotics 8 – Best Digestive Enzymes and Probiotics For Acid Reflux
CFU: 20 billion
Dosage: 3 capsules daily
Probiotics Strains:
7 Lactobacillus strains (L. casei, L. paracasei, L. plantarum, L. fermentum, L. longum, L. acidophilus, L. rhamnosus)
2 Bifidobacteria strains (B. longum and B. breve)
Saccharomyces cerevisiae
Form: HPMC delayed-release Capsules
Certifications: cGMP-certified
Storage: shelf-stable
Cost:
$64.99 for 1 month supply
$129.99 for 3 month's supply
$194.99 for 5 month's supply
Indigestion and acid reflux are related conditions, and one often leads to the other.
It's common that increased acidity damages the gut lining and slows down digestion.
No worries because Biotic 8 provides a solution for both of these issues.
It is a multi-ingredient, multi-strain probiotic supplement, offering 10 probiotic strains, prebiotic fiber, a blend of 3 digestive enzymes, and vitamin D within each capsule.
These enzymes make digestion of all major food components easier and faster as lipase assimilates fats, amylase breaks down carbs, and protease digests proteins.
Plus, it has most of the strains known for their efficacy against acid reflux.
Blends of Lactobacillus strains like this are dually beneficial. On one side, they prevent inflammation and enhance immune functions.
And on the other side, they fight pathogenic bacteria which disturb stomach walls and induce acidity.
Bifidobacteria are also effective for acid reflux treatment when combined with other strains.
Research says that a mixture of Bifidobacteria, Lactobacillus, and Saccharomyces can kill GERD-causing germ H. pylori. Also, it helps alleviate the nauseating effects of antibiotic drugs.
Lastly, it has Chicory root fiber to nourish these microbes and help them colonize in the gut microbiome.
All in all, it is a total win-win for gut health.
Pros:
Reduces stress levels
Improves digestion
Protects against inflammation
Safe enteric-release capsules
Cons:
The addition of B. lactis would make it even better
Only available from the official website
Where to buy:
Get this enzyme and symbiotic blend from the Biotics8 website.
Cost/pack starts at $64.99 per pack, but you can avail big discounts by opting for bundle packs.
Also, Shipping is free.
3. Culturelle Daily Digestive – Best Probiotics for Heartburn on a Budget
CFU: 10 billion
Dosage: 1 capsule daily
Probiotics Strain; Lactobacillus rhamnosus GG (LGG)
Form: HPMC Capsules
Certifications: N/A
Storage: Shelf-stable
Culturelle is a single-strain supplement, so is relatively inexpensive (only $17.99 for a month's supply).
The low price point makes it a beneficial option even for those who have quit supplements because they are too expensive.
The best thing is you won't miss the benefits of a good probiotic just because it costs less. 
It requires no refrigeration for storage, has a high CFU number, comes in the form of delayed-release capsules, and packaging is foolproof to protect the pills against moisture and temperature.
Coming to efficacy, LGG is an active strain that produces several anti-inflammatory compounds to boost immunity and resist the inflammatory effects of acids and toxins.
Besides that, L. rhamnosus is known to fight the harmful bacteria H. pylori which mainly affects stomach walls and increases acidity.
Reddit comments like the one C0nstantin3773 also proved the efficacy of Culturelle for curing GERD symptoms like heartburn and nausea.
Cost:
$16.19 for 30 pills pack
$21.59 for 50 pills pack
Pros:
Streamlines digestion
Fights germs
No refrigeration required
Reduces inflammation
Cons:
Where to buy:
From Culturelle's official website, the price is $16.19 for a 30-pill pack and $21.59 for a 50-pill pack.
Online marketplaces like Amazon, Walmart, Target, etc., within a price range of $16.19 to $25.99.
4. Optibac Pregnancy Probiotics – Best Brand Probiotics For Acid Reflux in Pregnancy
CFU: 12 billion
Dosage: 1 pill daily with breakfast
Probiotics Strains:
2 Lactobacillus starins (L. rhamnosus HN001, L. acidophilus La-14)
Bifidobacterium lactis HN019
Form: Capsules (encapsulation type not specified)
Certifications: N/A
Storage: Probiotics within a sealed jar are shelf-stable. But after opening, refrigerate to keep them viable.
Cost: $25.99
Heartburn, vomiting, and nausea are common during pregnancy, but probiotics can minimize these effects.
Optibac Pregnancy probiotics are specially formulated to help expecting mothers get rid of these symptoms. Like other effective probiotics for acid reflux relief, it has Lactobacillus and Bifidobacterium strains.
Lactobacillus strains mainly contribute with their anti-inflammatory effects, increasing immunity and minimizing damage to gut walls from high acidity.
While B. lactis improves gut motility and prevents the backflow of acid into the esophagus.
Mothers who took it in their second pregnancy said that Optibac Pregnancy probiotics make a considerable difference, reducing nausea and bloating along with a good immunity boost.
Pros:
Vegan with no allergens or preservatives
Reduces pregnancy gut problems
Helps with digestion
Cons:
Relatively low strain diversity than other supplements
Where to buy:
Available at the Optibac website.
It costs $25.99 for 1 month's supply. Also, you can subscribe and get 10% off.
Orders above $100 are shipped free of cost.
5. Probullin My Little Bugs – Best Baby Probiotics For Acid Reflux
CFU: 5 billion
Dosage: 1 capsule daily
Probiotics Strains:
7 Lactobacillus strains (L. acidophilus, L. rhmnosus, L. bulgaricus, L. fermentum, L. helveticus, L. brevis, L. reuteri)
3 Bifidobacteria strains (B. lactis, B. longum, B. bifidium)
Saccharmyces boulardii
2 Pediococcus strains (P. acidilactici, P. pentosaceus)
Propionibacterium freudenreichii
Streptococcus thermophilus
Form: Chewable Tablets
Certifications: Third-Party Lab tested
Storage: shelf-stable
Cost: $26.99
Kids are more prone to parasitic infections, resulting in acidity, diarrhea, and abdominal pain. It's necessary to protect their little tummies from harmful bacteria like Helicobacter pylori.
Lactobacillus species are known by science to be most effective against H. Pylori. That's why half of the Probullin My Little Bugs strains belong to the Lactobacillus genus.
Besides that positive effects of Bifidobacteria on digestion and stomach motility help your young ones digest better and not get bothered if they have eaten some fried snacks.
A feature that makes this probiotic different from others is its strain variety.
It also has supporting species like P. freudenreichii, which helps Bifidobacteria strains colonize, increasing the supplement's efficacy.
Also, these gummies come in a juicy watermelon flavor. So, rest assured your kids will take them happily.
Moreover, since they are free from milk, soy, gluten, and tree nuts, you can give it to your little ones without concern for allergic reactions.
Pros:
Multi-strain, multi-beneficial
Fights germs
Balances acid production
Tasty chewable pills
Allergen free
Cons:
Chewables don't have targeted-release capacity
Where to buy:
6. Dr. Formulated Probiotics Once Daily – Best Refrigerated Probiotics For Acidity
CFU: 30 billion
Dosage: Once daily with water or juice
Probiotics Strains:
9 Lactobacillus strains ( L. Bulgaricus, L. brevis, L. casei, L. salivarius, L. paracasei, L. acidophilus, L. gasseri, L. plantarum, L. rhamnosus)
5 Bifidobacterium strains ( B. lactis, B. breve, B. infantis, B. bifidum, B. longum)
Form: Cellulose capsules
Certifications: non-GMO verified, NSF Gluten-free
Storage: Must be refrigerated
Cost: $27.99
Garden of Life probiotics are among the most diverse probiotics available. Dr. Formulated Once Daily capsules are filled with 14 strains from Lactobacillus and Bifidobacterium families.
Among these strains most effective for acid reflux are L. paracasei, L. acidophilus, L. gasseri, L. plantarum, B. lactis, and B. bifidum.
L. paracasei improves gut motility, while L. gasseri enhances the utilization of gastric juice in digestion. In turn, both these effects contribute to keeping stomach acidity under check, preventing acidic reflux.
Anti-inflammatory effects of Bifidobacterium species strengthen the gut lining, reducing the pain and irritation you feel from acid reflux.
And to ensure all these species flourish in your intestines, Garden of Life has added a blend of 2 prebiotic ingredients.
All in all, this supplement is the best-refrigerated product available, but its storage requirements also prove to be its downside. You can't keep these out of the fridge or take them with you on a long trip to avoid heartburn during travel.
(Shelf-stable probiotics like Biotics 8 and Optibac Probiotics are better options if you want multi-strain probiotics for acid reflux relief during travel)
Pros:
High CFU count
Boosts Immunity
Improves digestion and balances acid production
Reduces inflammation
Cons:
Requires refrigeration, unsuitable for trips to hot areas
Where to buy:
7. Chobani Flip – Best Probiotic Foods For Acid Reflux
CFU: Not established
Dosage: 1-2 pack daily
Probiotics Strains: (6 strains)
S. thermophilus
4 Lactobacillus strains ( L. bulgaricus, L. acidophilus, L. casei, and L. rhamnosus)
Bifidus (Bifidobacterium species)
Form: Yogurt snack with fruit chunks
Certifications: Non-GMO certified
Storage: Refrigeration required
Cost: $1.38- $1.79
Yogurt is one of the best and most easily available probiotic foods for acid reflux. 
And snacks like Chobani Flip make it an even more delicious snack.
It comes in a 2-part container having yogurt on one side and additives (fruit chunks, chocolate chips, crackers, cake pieces, nuts, etc.). Flip the side of the filling onto yogurt and enjoy a yummy, nutrition-rich meal.
It contains natural yogurt probiotics. As 4 of these are Lactobacillus strains, these yogurt snacks offer good protection against acid reflux.
The characteristic yogurt probiotics, Bifidobacteria species (nicked as Bifidus), are potent immunity boosters.
While Chobani does not declare exactly which strain/s are present in their yogurts, you can be certain of its efficacy because all Bifidus species have anti-inflammation properties and upregulate digestion.
All and all, this fruity yogurt snack is a fun way to take probiotics and get rid of acid reflux, diarrhea, and other gut issues.
Pros:
Low-calorie, delicious snacks
Offer nutrition and probiotics together
A good source of protein and calcium
Cons:
Need refrigeration
Contains milk, wheat, and soy
Where to buy:
Amazon, Walmart, Target, Fresh Direct, and other grocery stores.
Related: Can I Take Probiotics with Omeprazole?
FAQs
How long does it take probiotics to work for acid reflux?
Probiotics help with acid reflux, but the results aren't instant as the microbes first need to colonize in your gut.
Most people start seeing improvement in acidity after 1-2 weeks, but it can also take several months, depending upon your gut health, diet, and posture.
Is probiotic yogurt OK for acid reflux?
Yogurt with natural and supplemented probiotics is safe and, in fact, beneficial for acid reflux. It works in the same way as probiotic supplements in balancing gut acidity.
Can probiotics restore stomach acid?
Probiotics do not induce acid secretion by stomach walls.
However, research suggests that Lactobacillus and Bifidobacterium species can help balance the acid levels in the stomach in case of hyperacidity.
For complete details on how probiotics alter stomach acidity, check out my detailed post here. *Link Yet to be added*
Are probiotics good for acid reflux in dogs?
Probiotics positively affect acid secretion in the dog's gut and can help with acid reflux.